Stocks just closed at a brand new all-time record high, 'Avengers: Endgame' is coming to theaters, and a 24-year-old man from Wisconsin just won the 768 million dollar Powerball jackpot.  If those are the top headlines today, then everything must be good in 'Murica at the moment, right?  Of course that is not true at all, but as far as the stock market is concerned we must give credit where credit is due.  Our financial engineers have created the largest stock market bubble in all of U.S. history, and we should all be hoping that it lasts for as long as possible.  Because once this financial bubble is destroyed, the aftermath is going to be truly horrible for the entire country.
Up to this point in the year, the stock market is off to the best start that we have seen since 1987.
Of course we all remember what happened toward the end of 1987.
But for now everything is rainbows and unicorns on Wall Street.  The following comes from Fox Business…
The benchmark S&P 500 index is up 17%, its best start to a year since 1987, while the Nasdaq has gained 22%, its best start since 1991. The Dow Jones Industrial Average remains about half a percentage point from its record last October.

Tuesday's move to a record high for the benchmark S&P 500 index and the Nasdaq index comes less than six months after a sharp decline in late December, which led the S&P 500 to its worst annual performance since 2008.
Last December, stocks were plunging dramatically, and it looked like a brand new financial crisis was potentially beginning.
But stocks pulled out of their nosedive, and most investors are feeling really happy for the moment.
If we could just freeze this moment in time somehow, we would be in pretty good shape.  Unfortunately, time inevitably rolls on, and many believe that there is a lot of pain ahead for investors.
Of course there are other "experts" that believe the best is yet to come.  For instance, Kevin Barry just told CNBC that the stock market turmoil that we witnessed late last year "actually prevented a recession"…
"These market levels are justified," said Kevin Barry, chief investment officer at Captrust Advisors. "The fourth-quarter sell-off actually prevented a recession because policymakers responded extremely quickly. Both President Xi and President Trump cooled off the rhetoric and Fed Chairman Jerome Powell came out and reversed course."
I have read that paragraph over and over, and I still can't believe that someone actually had the gall to say such a thing.
According to Barry, the coming recession has been postponed indefinitely and everybody can start partying like its 1999 all over again!
If only life were so simple.
Look, the reality is that even Fox Business is admitting that stock buybacks are one of the major factors driving this latest rally…
However, the rally this year has been despite outflows from equity funds, according to Bank of America data, suggesting some of the gains have been driven by corporate buybacks of stocks.
Our largest corporations are going hundreds of billions of dollars in debt to pump up their own stock prices.  It is a Ponzi scheme of epic proportions, and when things start to go bad there is going to be a race to bankruptcy court.
But for the moment the Ponzi scheme continues, and a lot of people are becoming exceedingly wealthy as a result.
For average Americans, it is absolutely imperative to remember that the stock market is not the economy.  Yes, the stock market has been soaring, but the U.S. economy has not had a full year of 3 percent growth since the middle of the Bush administration.  This has been the longest stretch of sub-three percent economic growth in our history by a very wide margin, and now all of the numbers are telling us that economic activity is slowing down once again.
Instead of partying, most people should be using this time to prepare for what is ahead, but we know that is simply not going to happen.
And when the end of this bubble finally comes, it is likely to come very quickly.  As I always stress to my regular readers, markets tend to go down a whole lot faster than they go up, and that is especially true during times of crisis.
In 2008, enormous amounts of money were lost in the blink of an eye.  The following comes from an outstanding article by Bob Henderson entitled "What I Learned From Losing $200 Million"…
The day after Lehman fell I lost $20 million, and the day after that $30 million—enough in two days to wipe out all the profits I'd made the previous year. (And that had been a pretty good year.)

But worse was that I felt trapped. My models showed I was destined to lose far more money in the coming weeks, no matter what I did. All roads seemed to lead to an unavoidable abyss. I could practically feel that hot hole breathing under my desk. I actually got dizzy, and lost my ability to think. When my boss stopped by to warn me that Goldman Sachs and Morgan Stanley looked likely to fall next, he seemed almost amused when he told me that I looked green.

I stumbled home early that day, mentally incapacitated for the first time in my career.
Someday we will see similar things happen again, but we should all want that day to be put off for as long as possible.
For the moment, happy times are here again on Wall Street, and we should enjoy them while we still can.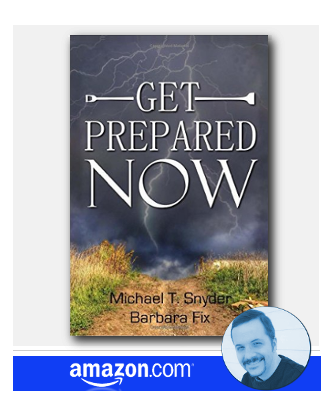 About the author: Michael Snyder is a nationally-syndicated writer, media personality and political activist. He is the author of four books including Get Prepared Now, The Beginning Of The End and Living A Life That Really Matters. His articles are originally published on The Economic Collapse Blog, End Of The American Dream and The Most Important News. From there, his articles are republished on dozens of other prominent websites. If you would like to republish his articles, please feel free to do so. The more people that see this information the better, and we need to wake more people up while there is still time.