The experts are telling us that the Midwest could experience the coldest weather that it has ever seen this week.  Wind chill temperatures of -40 and -50 degrees will be common throughout the region, and it is being projected that some spots will actually get hit by wind chill temperatures of up to -60 degrees.  A shift in the polar vortex is being blamed for this life-threatening weather, and we are being told to expect the coldest temperatures to arrive on Tuesday night and Wednesday morning.  But all-time records are already being set.  For example, according to Accuweather the temperature in the city of International Falls, Minnesota hit 45 below zero on Monday morning…
The coldest weather in years will put millions of people and animals throughout the midwestern United States at risk for hypothermia and frostbite to occur in minutes during the final days of January.

The deep freeze continued across the Upper Midwest on Sunday with temperatures plummeting well below zero in the morning. The low of 45 below zero F in International Falls, Minnesota, shattered the day's record of 36 below zero F from 1966.
Please keep in mind that was not a wind chill temperature.
That was the actual temperature outside.
As the week progresses, bitterly cold temperatures will be accompanied by heavy snow and strong winds across the Midwest.  The polar jet stream has weakened, and as a result the polar vortex will "dip into parts of North America"…
The wintry onslaught will be driven by the Northern Hemisphere's polar vortex, the pocket of cold air sitting atop the North Pole. When temperatures rise in the Arctic, the polar jet stream — the torrent of westerly winds that hold the polar vortex in place — can weaken and dip into parts of North America.

"Occasionally this ring of winds deforms or even splits, which allows the cold air to spill southward over mid latitudes — this is exactly what's happening now," said Jennifer Francis, a senior research scientist with Woods Hole Research Center in Massachusetts, in an email. "It just so happens that the lobe of cold air is located over central North America, with Chicago in the crosshairs."
This is an extremely dangerous situation, and we will probably read about some people that underestimate the danger and end up dead.
According to weather.com, the air will be so cold that it "could lead to frostbite on exposed skin in a matter of minutes"…
This bitter cold will be accompanied by strong winds at times Tuesday through Thursday, leading to life-threatening wind chills in the Midwest that could lead to frostbite on exposed skin in a matter of minutes. A large swath of the Midwest will have wind chills in the 30s, 40s and 50s below zero by Wednesday. A few spots in Minnesota and eastern North Dakota may see wind chills in the 60s below zero.
Unless you absolutely must go out for some reason, if you live in the Midwest you should stay inside until temperatures begin to warm up again.
This weather is so unusual that even President Trump is tweeting about it…
In the beautiful Midwest, windchill temperatures are reaching minus 60 degrees, the coldest ever recorded. In coming days, expected to get even colder. People can't last outside even for minutes. What the hell is going on with Global Waming? Please come back fast, we need you!
Now that even the president of the United States is acknowledging that this winter could be "the coldest ever recorded", I want to remind everyone that we were warned about this months in advance…
–"Climate Chaos: Following Record Heat This Summer, Experts Are Predicting There Will Be A Nightmarishly Cold Winter"
–"November Snow In Texas? Experts Warn Decreased Solar Activity Will Shatter All Global Climate Models"
–"The Coldest And Snowiest November Ever? Here Is Why America's Freakish Weather Is Only Going To Get Worse…"
–"A Mini Ice Age? NASA Scientist Warns That Diminished Solar Activity Could Mean The Coldest Winter In Modern Times"
–"-75 Wind Chill On Thanksgiving??? Why This Could Be The Coldest Winter In America EVER…"
I wrote article after article warning that this would happen, and now it is happening.
At this hour, schools and businesses are closed throughout North Dakota, Minnesota and Wisconsin as blizzard-like conditions sweep through both states.  And Chicago is bracing for what will likely be the coldest day ever in the history of the city…
After seeing a high around 34 on Monday at O'Hare International Airport, temperatures will drop to near zero before the end of the day, according to the National Weather Service. By Tuesday night, temperatures are expected to take another plunge, to 23 below zero, flirting with Chicago's coldest temperature ever: minus 27 on Jan. 20, 1985.

Temperatures are forecast to inch up to a daytime high of about minus 14 on Wednesday — the first subzero high temperature in five years and the coldest winter high ever recorded in Chicago — before dipping, again, to about minus 21 overnight. The coldest daytime high in Chicago was minus 11 on Christmas Eve 1983.
Our planet is changing, our climate is collapsing, and this is going to put an increasing amount of strain on social order.
And we are already starting to see evidence of this.  In fact, Chicago police are telling us that in recent days people have been getting robbed of their expensive winter coats at gunpoint…
Chicago police are reporting gunpoint robberies targeting people wearing pricey Canada Goose jackets as temperatures plunge in the city.

Over the past two weeks, police say there's been a spate of the thefts in which people wearing the luxury coats have been targeted and forced to give up the jackets. The coats can cost upward of $1,000 and are often seen on celebrities.

Six people had their Canada Goose coats stolen last week and two more were targeted Wednesday.
Unfortunately, this is only just the beginning.
Global seismic activity is rising, weather patterns are becoming more extreme, and a worldwide environmental collapse is already well underway.  If you have any doubts that this worldwide environmental collapse is happening, just read this excellent article by Chris Martenson.
We have been making the wrong decisions for decades, and now the consequences of those decisions are starting to catch up with us.  The clock is ticking, but most Americans are still completely and utterly clueless about what is coming.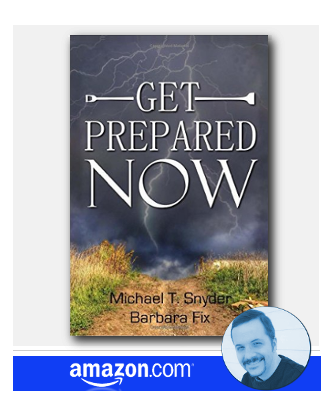 About the author: Michael Snyder is a nationally-syndicated writer, media personality and political activist. He is the author of four books including Get Prepared Now, The Beginning Of The End and Living A Life That Really Matters.  His articles are originally published on The Economic Collapse Blog, End Of The American Dream and The Most Important News.  From there, his articles are republished on dozens of other prominent websites all over the nation.  If you would like to republish his articles, please feel free to do so.  The more people that see this information the better, and we need to wake more people up while there is still time.