According to the Labor Department, the number of job openings in the United States just plunged by the largest amount we have seen in nearly four years.  The latest JOLTS report shows that the number of job openings has declined by 538,000, and that is a really big number for just a single month.  But we shouldn't be surprised by this at all, because it is perfectly consistent with all of the other dismal economic numbers that have been coming in recently.  An economic slowdown is here, and many believe that it is just getting started.
Very briefly, let's review some of the reasons why we should expect to see the employment numbers get worse.  As the economy slows down, goods begin to pile up in our warehouses, and that is precisely what the numbers show.  In fact, the inventory to sales ratio in the U.S. has now increased for five months in a row.
Fewer sales should result in less stuff being shipped around the nation by freight, rail and air, and this is yet another thing that we see happening right now.  Overall, U.S. freight shipment volume has dropped for three months in a row.
Once businesses realize that economic conditions have changed, then they start reducing the number of job openings and laying off workers.  That is why employment statistics are often referred to as "trailing indicators".  The employment numbers don't usually start to go down until other indicators start dropping first.
And without a doubt, the employment numbers are starting to move.  Continuing jobless claims have been rising at the most rapid pace in 10 years, and U.S. businesses have been adding jobs at the slowest pace in 18 months.
With all of that in mind, we should not be surprised at all by this latest number…
Job openings, a measure of labor demand, tumbled by 538,000 to a seasonally adjusted 7.1 million, the Labor Department said in its monthly Job Openings and Labor Turnover Survey, or JOLTS, report on Tuesday. The drop was the biggest since August 2015.
That is a really dreadful number, and there is no way to spin it to make it look good.
One factor that is shifting the employment environment is all of the minimum wage laws that are being passed around the country.
A number of liberal enclaves have raised the minimum wage to 15 dollars an hour, and as a result a lot of small businesses have been forced to let workers go…
In what has become just one more example of government intervention going the exact opposite of what socialists intend, minimum wage laws are driving a "payroll tsunami."  Small businesses are being forced to lay off workers in order to comply with a law demanding an increase in wages.

This isn't all that surprising. Economists, small business owners, and other analysts have said that the net result of higher wages is a loss of jobs. And small businesses, who don't have the capital or return that large corporations do, are feeling the proverbial pinch. According to Fox News, several mom-and-pop coffee shops and restaurants, are responding by cutting hours, eliminating jobs or closing down entirely because they can't keep up with rising wages under the law.
My very first job was flipping burgers for McDonald's, and I made $3.35 an hour doing it.  As a teenager, I was grateful to have such a job, but now such minimum wage jobs are in danger.  Wal-Mart and other major corporations are already making extensive use of robots to perform basic tasks, and making human workers more expensive is going to hurt those at the bottom of the economic food chain the most.
But for the moment, things are still relatively stable.  Most Americans still seem to believe that the bubble of debt-fueled economic "prosperity" that we are currently enjoying is going to continue for the foreseeable future, and they are spending money as if tomorrow will never come.
According to Zero Hedge, U.S. consumer credit has now surged past the 4 trillion dollar mark…
After a few months of wild swings in mid 2018, in February US consumer credit continued to normalize, rising by $15.2 billion, slightly below the $17 billion expected, following January's $17.7 billion increase. The continued increase in borrowings saw total credit storm above $4 trillion, and hit a new all time high of $4.045 trillion on the back of a America's ongoing love affair with auto and student loans, and of course credit cards.
We better hope that the U.S. economy is able to pull out of this new slowdown, because most of us are living right on the edge financially.
Sadly, we never seem to learn.  The same mistakes that we made last time around are all happening again, and Americans are completely and totally unprepared for what is coming.
And the warnings are all around us.  On Tuesday, the IMF downgraded their forecast for global economic growth for the third time in six months.  Commenting on this downgrade, IMF executive director Christine Lagarde noted that this is a "delicate moment" for the global economy…
Christine Lagarde, the IMF's executive director, said the global economy is in a "delicate moment."

"Only two years ago, 75% of the global economy experienced an upswing," Lagarde said, according to the text of a speech she's due to give at the US Chamber of Commerce. "For this year, we expect 70% of the global economy to experience a slowdown in growth."
It is not often that I agree with a globalist like Christine Lagarde, but she is quite right in saying that this is a "delicate moment".
Global economic numbers have not been this bad since the last financial crisis, and many believe that we have now reached a major turning point.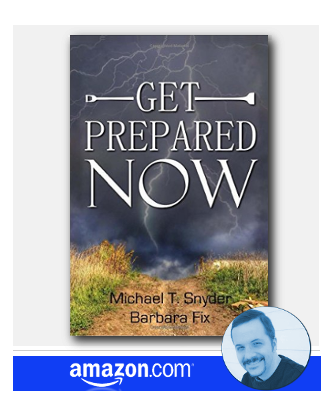 About the author: Michael Snyder is a nationally-syndicated writer, media personality and political activist. He is the author of four books including Get Prepared Now, The Beginning Of The End and Living A Life That Really Matters. His articles are originally published on The Economic Collapse Blog, End Of The American Dream and The Most Important News. From there, his articles are republished on dozens of other prominent websites. If you would like to republish his articles, please feel free to do so. The more people that see this information the better, and we need to wake more people up while there is still time.