This government shutdown is really starting to take a toll on the U.S. economy.  On Wednesday, the chair of the White House Council of Economic Advisers made an absolutely stunning admission.  We all knew that the global economy was slowing down, and we all knew that U.S. economic activity was beginning to sputter, but up until this week the Trump administration had always insisted that we are not heading for a recession.  Well, all of that changed on Wednesday when Kevin Hassett publicly admitted that we could end up with zero GDP growth during the first quarter of 2019…
A top economic adviser to President Donald Trump told CNN on Wednesday that the US economy may show no growth in the first quarter if the federal government shutdown lasts much longer.

White House Council of Economic Advisers Chairman Kevin Hassett said in an interview with CNN's Poppy Harlow that he was not overly worried about the long-term effects of a government shutdown. But after Harlow asked him if the United States could wind up with zero GDP growth this quarter, he conceded that it was possible. "We could, yes," he said.
With much of the government currently closed, and with no end to the shutdown in sight, it is inevitable that the economic numbers for the first quarter are not going to look as good as they could have been.
But if this shutdown lasts for the entire quarter, that could easily push us into an economic contraction, and that would send shockwaves all over the planet.
And at this point there is definitely a possibility that this shutdown could go on for a couple more months.  Neither side intends to give in, and things are starting to get very personal.  On Wednesday, Nancy Pelosi made it exceedingly clear that she will not allow President Trump to deliver the State of the Union address at the U.S. Capitol until the shutdown ends under any circumstances…
House Speaker Nancy Pelosi dug in Wednesday on her call to delay the State of the Union address even after President Trump vowed to proceed with the speech next week, sending a curt letter making clear she will not allow the event to take place during the government shutdown.

Reacting to Pelosi's letter, Trump told reporters at the White House "we'll do something in the alternative," suggesting a speech of some kind will still happen next week.
This truly is unprecedented.
Donald Trump is the very first president in all of U.S. history to be "disinvited" from delivering the State of the Union address.
And the hundreds of thousands of federal workers that are not receiving paychecks right now are really starting to get restless.  A lot of them have been living paycheck to paycheck, and so missing a couple of paychecks is a really, really big deal to those people.  As Marketwatch recently noted, some of them are actually "turning to food banks to feed their families"…
Within just a few weeks into the government shutdown, people are struggling to cope. We hear stories about people turning to food banks to feed their families. We hear stories about people who are in dire straits because they can't get loans. We hear stories about people who can't pay their mortgages. That's not even one month into the shutdown.
If something this minor can cause such widespread pain and suffering, what would we see if a real crisis actually hit this nation?
Of course the truth is that most Americans are simply not prepared to handle much of anything, and this is a point that Mac Slavo made quite well in one of his most recent articles…
Almost 60% of Americans have less than $1000 in savings for a rainy day fund or an immediate emergency. It's been ten years since the Great Recession left many Americans jobless with no money, and it appears most have learned nothing. The government shutdown serves as a painful warning and preview for what will happen once unemployment rises from 50-year lows.  Americans are far too dependent on others, including the government, for their survival.
For now, many that are struggling financially due to this shutdown are trying to bridge the gap by going into more debt.
And if the shutdown doesn't last too much longer, that might work for a lot of people.
But it is very dangerous to go into too much debt, and a large portion of the country has already crossed that line.  For example, one recent survey discovered that approximately a third of all Americans are "afraid they'll max out their credit card when making a large purchase"…
Despite the dangers of high-interest loans, more consumers are testing the limits of plastic.

To that point, more than 1 in 3 people —or 86 million Americans — said they're afraid they'll max out their credit card when making a large purchase, according to a new WalletHub credit cards survey. (Most of those polled considered a large purchase as anything over $100.)
The only easy way out of this government shutdown would be for one of the two sides to completely fold, and that would be politically disastrous for whoever decides to do that.
The battle lines have been drawn, and this political game of chicken is going to go on until somebody blinks.
And if nobody blinks for a couple more months, the economic consequences of this government shutdown are likely to be quite severe.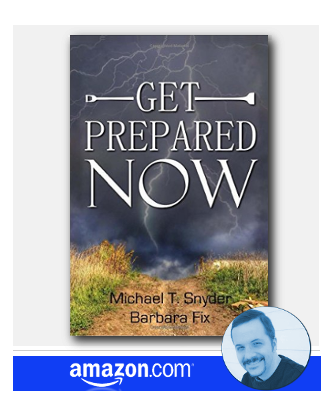 About the author: Michael Snyder is a nationally-syndicated writer, media personality and political activist. He is the author of four books including Get Prepared Now, The Beginning Of The End and Living A Life That Really Matters.  His articles are originally published on The Economic Collapse Blog, End Of The American Dream and The Most Important News.  From there, his articles are republished on dozens of other prominent websites all over the nation.  If you would like to republish his articles, please feel free to do so.  The more people that see this information the better, and we need to wake more people up while there is still time.